May 22, 2020
We hope that you and your loved ones are well. While it is clear that the remainder of Spring session cannot happen, we are optimistic about Summer programming!
As Ontario continues forward with reopening, we will keep a close eye on the updating and relevant guidelines once the province moves into Phase 2 and keep our students and parents posted.
In the meantime, there is one more week left of our free online Zoom Circus Conditioning and Flexibility class Thursdays at 3pm.
Email jen@torontocircuscentre.com if your child wishes to participate.
We appreciate your patience and understanding and look forward to seeing you soon in healthier times.
-- Jen and the team at Toronto Circus Centre
Teen Circus Registration
Ages 11 – 17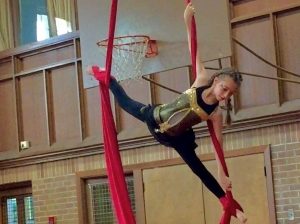 Students train on aerial trapeze, hoop, rope and silks, as well as floor and partner acrobatics and juggling, with an option to focus on one apparatus if they wish. Whether they are a beginner, cross training for a primary sport, transitioning out of competitive sport or have aspirations towards a career in the circus, this is great class to keep in shape while having fun. Students invite parents to a circus show at the end of the year – an attraction not to be missed!
Winter Term 2020:
– Tuesdays (10 weeks), East End location (1300 Gerrard Street E @ The Redwood), Jan 7th – Mar 10th, 5:30 – 7 pm, $270 + HST
– Thursdays (10 weeks), East End location (1300 Gerrard Street E @ The Redwood), Jan 9th – Mar 12th, 4 – 5:30 pm, $270 + HST
– Drop-in rate per-class: $35 tax included
Short-Term Ground-based Teen Circus Class (Leaside-only), thru mid-March 2020:
– Leaside Partial Closure: Our regular space is temporarily closing at Leaside in November 2019 for some exciting renovations, including a new gym floor! We'll be re-opening the main aerial space in March 2020 for March Break Camp (16th – 20th) and for regular Spring term classes (below). During the closure, we will be offering a NEW 90-minute ground-based Teen Circus class with a focus on conditioning, flexibility and contortion, acrobatics and handstands, and juggling/coordination training. Class will run in the Auditorium. Age range is relaxed, meaning that kids younger than 11 may join as well — though if they are much younger and/or have no prior circus class experience, it may be best if they try a drop-in class the first time to see if it's a good fit for them.
– Wednesdays (10 weeks), Leaside location – Auditorium (822 Millwood Road @ Leaside United Church), Jan 8th – Mar 11th, 6 pm – 7:30 pm, $270 + HST
– Drop-in rate per-class: $35 tax included
Spring Term 2020:
– Tuesdays (14 weeks), East End location (1300 Gerrard Street E @ The Redwood), Mar 24th – Jun 23rd, 5:30 – 7 pm, $378 + HST
– Wednesdays (14 weeks), Leaside location (822 Millwood Road @ Leaside United Church), Mar 25th – Jun 24th, 5:30 – 7 pm, $378 + HST
– Thursdays (14 weeks), East End location (1300 Gerrard Street E @ The Redwood), Mar 26th – Jun 25th, 4 – 5:30 pm, $378 + HST
– Saturdays (12 weeks), Leaside location (822 Millwood Road @ Leaside United Church), Mar 28th – Jun 27th, 10:30 am – 12 pm, $324 + HST
– Saturday Scheduling Note: NO CLASSES on Saturday, May 9th or Saturday, May 16th!
– Drop-in available for all days/locations: $35/class tax included