NOTE: Keeping our children and community safe is a priority of Toronto Circus Centre and in light of the recent announcements from the Ontario Chief Medical Officer of Health, we are suspending all Spring Term Classes for the time being. The Ontario Minister of Education has issued a Ministerial Order to close all publicly-funded schools and many programs/facilities in Ontario. We must follow the lead of the experts in response to the emergence in Ontario of COVID-19, and in an effort to slow its spread. The decision was made on the advice of Dr. David Williams, Ontario's chief medical officer of health.
Truly social distancing is what we are told works best and it takes ALL of us engaging in social distancing for it to work! Together, we can flatten the curve in Canada.
It's heartbreaking for us all to have to close for now, especially during these stressful times when a little circus fun would be so welcome. With the information we have, I cannot be a part of the problem when there is a clearly outlined opportunity to be part of the solution.
Look for further instructions on when we can proceed with Spring Term Classes as soon as we have more information. For now, feel free to sign up to hold your spots, just disregard the amount due for the time being. We will confirm with you, once we know how long Spring Term will be, what that amount is. For the time being, a submitted registration form alone is sufficient to hold your spot.
We appreciate your co-operation and understanding and look forward to seeing you soon in healthier times.
-- Jen and the team at Toronto Circus Centre
Teen Circus Registration
Ages 11 – 17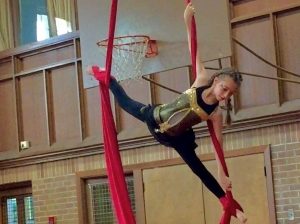 Students train on aerial trapeze, hoop, rope and silks, as well as floor and partner acrobatics and juggling, with an option to focus on one apparatus if they wish. Whether they are a beginner, cross training for a primary sport, transitioning out of competitive sport or have aspirations towards a career in the circus, this is great class to keep in shape while having fun. Students invite parents to a circus show at the end of the year – an attraction not to be missed!
Winter Term 2020:
– Tuesdays (10 weeks), East End location (1300 Gerrard Street E @ The Redwood), Jan 7th – Mar 10th, 5:30 – 7 pm, $270 + HST
– Thursdays (10 weeks), East End location (1300 Gerrard Street E @ The Redwood), Jan 9th – Mar 12th, 4 – 5:30 pm, $270 + HST
– Drop-in rate per-class: $35 tax included
Short-Term Ground-based Teen Circus Class (Leaside-only), thru mid-March 2020:
– Leaside Partial Closure: Our regular space is temporarily closing at Leaside in November 2019 for some exciting renovations, including a new gym floor! We'll be re-opening the main aerial space in March 2020 for March Break Camp (16th – 20th) and for regular Spring term classes (below). During the closure, we will be offering a NEW 90-minute ground-based Teen Circus class with a focus on conditioning, flexibility and contortion, acrobatics and handstands, and juggling/coordination training. Class will run in the Auditorium. Age range is relaxed, meaning that kids younger than 11 may join as well — though if they are much younger and/or have no prior circus class experience, it may be best if they try a drop-in class the first time to see if it's a good fit for them.
– Wednesdays (10 weeks), Leaside location – Auditorium (822 Millwood Road @ Leaside United Church), Jan 8th – Mar 11th, 6 pm – 7:30 pm, $270 + HST
– Drop-in rate per-class: $35 tax included
Spring Term 2020:
– Tuesdays (14 weeks), East End location (1300 Gerrard Street E @ The Redwood), Mar 24th – Jun 23rd, 5:30 – 7 pm, $378 + HST
– Wednesdays (14 weeks), Leaside location (822 Millwood Road @ Leaside United Church), Mar 25th – Jun 24th, 5:30 – 7 pm, $378 + HST
– Thursdays (14 weeks), East End location (1300 Gerrard Street E @ The Redwood), Mar 26th – Jun 25th, 4 – 5:30 pm, $378 + HST
– Saturdays (12 weeks), Leaside location (822 Millwood Road @ Leaside United Church), Mar 28th – Jun 27th, 10:30 am – 12 pm, $324 + HST
– Saturday Scheduling Note: NO CLASSES on Saturday, May 9th or Saturday, May 16th!
– Drop-in available for all days/locations: $35/class tax included