Teen Circus Registration
Ages 11 – 17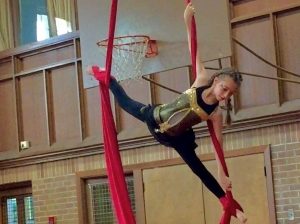 Students train on aerial trapeze, hoop, rope and silks, as well as floor and partner acrobatics and juggling, with an option to focus on one apparatus if they wish. Whether they are a beginner, cross training for a primary sport, transitioning out of competitive sport or have aspirations towards a career in the circus, this is great class to keep in shape while having fun. Students invite parents to a circus show at the end of the year – an attraction not to be missed!
Fall Term 2019:
– Wednesdays (9 weeks), Leaside location (822 Millwood Road @ Leaside United Church), Sep 4th – Oct 30th, 5:30 – 7 pm, $243 + HST
– Saturdays (8 weeks), Leaside location (822 Millwood Road @ Leaside United Church), Sep 7th – Nov 2nd, 10:30 am – 12 pm, $216 + HST
– Saturday Scheduling Note: No class on October 19th
– Drop-in also available, $25 tax included
– Leaside Term Length: our Fall term will be shorter in Leaside this year (East End is not effected). We will be temporarily closing in November for some exciting renovations to our space, including a new gym floor! Re-opening early 2020. Fall 2019 Leaside classes will conclude with a fun Halloween show on the week of October 30th – November 2nd. Interested in ground acrobatics, flexibility, or circus conditioning classes in Leaside during the closure? Email us and let us know!
– NOTE! TUESDAY AND THURSDAY EAST END TEEN CLASSES ARE FULL and on WAITLIST STATUS – Email us to get on waitlist. If there is enough interest, and a minimum class size can be reached, another Teen Class could be added in the East End at 4:00 pm on Tuesdays – Email us if interested!