UPDATE Oct 2nd:
As you are all aware, COVID daily case counts are now on a strong upward trajectory in Toronto. We're watching the situation closely and have suspended new registrations for Fall Term (as well as any new Party bookings) as we assess the current restrictions and recommendations from both Provincial and Municipal heath departments.
Please watch this space for updates. Thank you!
---
September 12, 2020
Hello, everyone!
Just a quick update to let you all know that Fall 2020 Registration is now open for weekly classes starting the first full week of October.
Please note: all students or parents/guardians of students MUST read our new COVID Policies and Procedures page before registering.
Our Parties have also been revised and we are once again able to start booking those! Click here for more information and to get in touch re: availability.
We can't wait to see you all soon!
-- Jen and the team at Toronto Circus Centre
Summer Camps 2020 — CANCELLED — 2021 CAMP INFO MAY CHANGE DUE TO UPDATED HEALTH DEPT. GUIDELINES
Ages 4½ to 13 (kids need to be turning 5 in 2020 to qualify)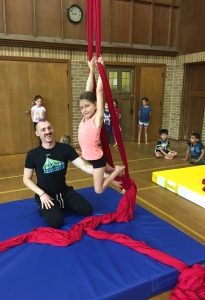 A full week of circus fun! You'll be amazed at what children can achieve in this immersive week of circus-ing. Aerial trapeze, hoop, rope and silks as well as juggling, floor and partner acrobatics and clowning. There's something for every junior circus star in training! Indoor and outdoor activities (weather permitting). Students invite parents to circus show at the end of the week – an attraction not to be missed!
Camp Details:
Hours: 9 am – 4 pm
FREE End-of-Week Show for Friends & Family on Friday @ 4:00 pm
Rate: $355 + HST/week
Extended Hours: 8-9 am and/or 4-5 pm for $50 + HST/week
Single-day options available on request for $80 + HST/day, email us for details: info@torontocircuscentre.com
Locations:

Leaside: 822 Millwood Road @ Leaside United Church
East End: 1300 Gerrard Street E @ The Redwood
2020 Summer Camp Dates (ALL CAMPS CURRENTLY CANCELLED DUE TO COVID CLOSURE GUIDELINES, list here is for reference only in case we are able to reopen later in summer):
Summer Camp – week 1 (Leaside location only): July 6th – July 10th
Summer Camp – week 2 (both locations): July 13th – July 17th
Summer Camp – week 3 (both locations): July 20th – July 24th
Summer Camp – week 4 (Leaside location only): July 27th – July 31st
Summer Camp – week 5 (both locations): August 10th – August 14th
Summer Camp – week 6 (both locations): August 17th – August 21st
Click here to read our 2020 Camps FAQ
NOTE: FAQ subject to change