Update January 3, 2022
Hello TCC families,
In light of this morning's announcement from the Premier: "Gyms and other indoor recreational sport facilities closed, except athletes training for the Olympics and Paralympics and certain professional and elite sports leagues", Toronto Circus Centre will remain closed until further government updates.
We hope that things will improve quickly and we will be able to return to programming the start of February.
We had such a positive Fall session and were able to keep everyone safe and are committed to continuing to keep health and safety a priority.
Families that have already paid for the winter session will still get a full 12 week program beginning the week we are able to open.
Keep safe and we will see you soon.
-Jen and the team at Toronto Circus Centre
———

December 2021
Dear Toronto Circus Centre families,
We have had a fantastic return to classes here at Toronto Circus Centre. Thank you to the families that kept in touch and the new ones that joined us!
Registration is live for Winter, Spring and March Break sessions. Book quickly as COVID capacity guidelines limit space.
We look forward to more jumping, spinning, flying, and laughing together.
- Jen and the team at Toronto Circus Centre
March Break & Summer Camp 2022
Ages 4½ to 13 (kids need to be turning 5 in 2022 to qualify)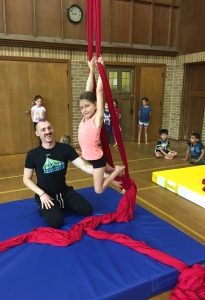 A full week of circus fun! You'll be amazed at what children can achieve in this immersive week of circus-ing. Aerial trapeze, hoop, rope and silks as well as juggling, floor and partner acrobatics and clowning. There's something for every junior circus star in training! Indoor and outdoor activities (weather permitting). Students invite parents to circus show at the end of the week – an attraction not to be missed!
March Break
–
March 14th – March 18th
Summer –
TBD
All Camp Details
Hours: 9:00am – 4:00pm

Rate: $365 + HST/week

Extended Hours: 8-9 am and/or 4-5 pm

FREE End-of-Week Show for Friends & Family on Friday @ 4:00pm

Single-day options available on request for $85 + HST/day, email us for details: info@torontocircuscentre.com
Read our Camps FAQ
FAQs are subject to change