May 22, 2020
We hope that you and your loved ones are well. While it is clear that the remainder of Spring session cannot happen, we are optimistic about Summer programming!
As Ontario continues forward with reopening, we will keep a close eye on the updating and relevant guidelines once the province moves into Phase 2 and keep our students and parents posted.
In the meantime, there is one more week left of our free online Zoom Circus Conditioning and Flexibility class Thursdays at 3pm.
Email jen@torontocircuscentre.com if your child wishes to participate.
We appreciate your patience and understanding and look forward to seeing you soon in healthier times.
-- Jen and the team at Toronto Circus Centre
Summer Camps 2020
Ages 4½ to 13 (kids need to be turning 5 in 2020 to qualify)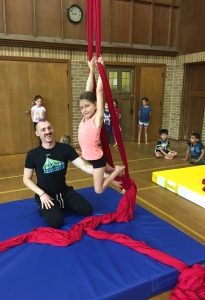 A full week of circus fun! You'll be amazed at what children can achieve in this immersive week of circus-ing. Aerial trapeze, hoop, rope and silks as well as juggling, floor and partner acrobatics and clowning. There's something for every junior circus star in training! Indoor and outdoor activities (weather permitting). Students invite parents to circus show at the end of the week – an attraction not to be missed!
Camp Details:
Hours: 9 am – 4 pm
FREE End-of-Week Show for Friends & Family on Friday @ 4:00 pm
Rate: $355 + HST/week
Extended Hours: 8-9 am and/or 4-5 pm for $50 + HST/week
Single-day options available on request for $80 + HST/day, email us for details: info@torontocircuscentre.com
Locations:

Leaside: 822 Millwood Road @ Leaside United Church
East End: 1300 Gerrard Street E @ The Redwood
2020 Summer Camp Dates:
Summer Camp – week 1 (Leaside location only): July 6th – July 10th
Summer Camp – week 2 (both locations): July 13th – July 17th
Summer Camp – week 3 (both locations): July 20th – July 24th
Summer Camp – week 4 (Leaside location only): July 27th – July 31st
Summer Camp – week 5 (both locations): August 10th – August 14th
Summer Camp – week 6 (both locations): August 17th – August 21st
Click here to read our 2020 Camps FAQ
NOTE: FAQ subject to change