UPDATE Oct 2nd:
As you are all aware, COVID daily case counts are now on a strong upward trajectory in Toronto. We're watching the situation closely and have suspended new registrations for Fall Term (as well as any new Party bookings) as we assess the current restrictions and recommendations from both Provincial and Municipal heath departments.
Please watch this space for updates. Thank you!
---
September 12, 2020
Hello, everyone!
Just a quick update to let you all know that Fall 2020 Registration is now open for weekly classes starting the first full week of October.
Please note: all students or parents/guardians of students MUST read our new COVID Policies and Procedures page before registering.
Our Parties have also been revised and we are once again able to start booking those! Click here for more information and to get in touch re: availability.
We can't wait to see you all soon!
-- Jen and the team at Toronto Circus Centre
Kinder Cirque Registration – NOTE: New registrations on HOLD. See Home Page for updates and details.
Ages 4 – 5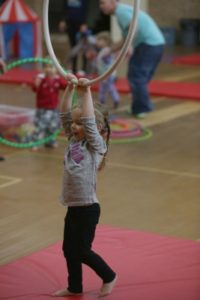 Creativity, confidence and co-ordination are at play in our Kinder Cirque class where our growing performers tackle circus feats of ground and aerial acrobatics.
Fall Term 2020:
– Tuesdays (11 weeks), East End location (1300 Gerrard Street E @ The Redwood), Oct 6th – Dec 15th, 4 – 4:50 pm, $275 + HST
– Wednesdays (11 weeks), Leaside location (822 Millwood Road @ Leaside United Church), Oct 7th – Dec 16th, 4 – 4:50 pm, $275 + HST
– Saturdays (11 weeks), Leaside location (822 Millwood Road @ Leaside United Church), Oct 10th – Dec 19th, 10 – 10:50 am, $275 + HST
– Pre-booked drop-ins available. Drop-ins must be booked 24 hours before class start time.
– Drop-in rate: $30 tax included
After-School Pickup (East End only)
After-school pickup is available at the following schools:
– Bowmore
– Duke of Connaught
– Equinox
– Roden
Children are met at the school and safely walked to the circus. Please send a snack. After-school pickup program cost is $5.00/day + HST. Children must be enrolled in one of the following East End location 4pm classes eligible for pre-class pickup:
– Kinder Cirque (ages 4-5) on Tuesday
– Circus Club (ages 6-11) on Tuesday or Thursday
After-School Pickup can be added as an option on the registration form below. The option to add Pickup will appear after an eligible Class Selection is made.
Toronto Circus Centre is not a licensed daycare provider
NOTE: all students or parents/guardians of students MUST read our new COVID Policies and Procedures page before registering: