Kinder Cirque Registration
Ages 4 – 5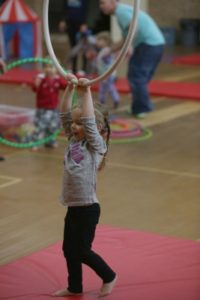 Creativity, confidence and co-ordination are at play in our Kinder Cirque class where our growing performers tackle circus feats of ground and aerial acrobatics.
Fall Term 2019:
– Mondays (14 weeks), East End location (1300 Gerrard Street E @ The Redwood), Sep 9th – Dec 16th, 4 – 5 pm, $280 + HST
– Monday Scheduling Note: No class on September 2nd & October 14th
– Wednesdays (9 weeks), Leaside location (822 Millwood Road @ Leaside United Church), Sep 4th – Oct 30th, 4 – 5 pm, $180 + HST
– Saturdays (8 weeks), Leaside location (822 Millwood Road @ Leaside United Church), Sep 7th – Nov 2nd, 10 – 11 am, $160 + HST
– Saturday Scheduling Note: No class on October 19th
– Drop-in also available, $25 tax included
– Leaside Term Length: our Fall term will be shorter in Leaside this year (East End is not effected). We will be temporarily closing in November for some exciting renovations to our space, including a new gym floor! Re-opening early 2020. Fall 2019 Leaside classes will conclude with a fun Halloween show on the week of October 30th – November 2nd. Interested in ground acrobatics, flexibility, or circus conditioning classes in Leaside during the closure? Email us and let us know!
Fall 2019 – After-School Pickup (East End only)
After-school pickup is available at the following schools:
– Bowmore
– Equinox
– Roden
Children are met at the school and safely walked to the circus. Please send a snack. After-school pickup program cost is $5.00/day + HST. Children must be enrolled in one of the following East End location 4pm classes eligible for pre-class pickup:
– Kinder Cirque (ages 4-5) on Monday
– Circus Club (ages 6-11) on Monday, Tuesday, or Thursday
After-School Pickup can be added as an option on the registration form below. The option to add Pickup will appear after an eligible Class Selection is made.
Toronto Circus Centre is not a licensed daycare provider