May 22, 2020
We hope that you and your loved ones are well. While it is clear that the remainder of Spring session cannot happen, we are optimistic about Summer programming!
As Ontario continues forward with reopening, we will keep a close eye on the updating and relevant guidelines once the province moves into Phase 2 and keep our students and parents posted.
In the meantime, there is one more week left of our free online Zoom Circus Conditioning and Flexibility class Thursdays at 3pm.
Email jen@torontocircuscentre.com if your child wishes to participate.
We appreciate your patience and understanding and look forward to seeing you soon in healthier times.
-- Jen and the team at Toronto Circus Centre
Circus Tots Registration
Ages 2 – 3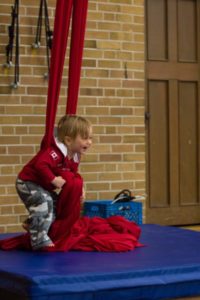 Jump, swing, twirl and tumble! Our tiniest troupe members explore aerial and ground circus acrobatics, encouraging fundamental movement skills and play. A parent/guardian and tot program.
Spring Term 2020:
– Saturdays (12 weeks), Leaside location (822 Millwood Road @ Leaside United Church), Mar 28th – Jun 27th, 9 – 10 am, $240 + HST
– Drop-in also available, $25 tax included
– Scheduling note: NO CLASSES on Saturday, May 9th and Saturday, May 16th!