Circus Tots Registration
Ages 2 – 3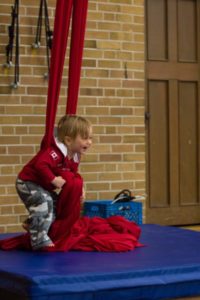 Jump, swing, twirl and tumble! Our tiniest troupe members explore aerial and ground circus acrobatics, encouraging fundamental movement skills and play. A parent/guardian and tot program.
Spring Term 2020:
– Saturdays (12 weeks), Leaside location (822 Millwood Road @ Leaside United Church), Mar 28th – Jun 27th, 9 – 10 am, $240 + HST
– Drop-in also available, $25 tax included
– Scheduling note: NO CLASSES on Saturday, May 9th and Saturday, May 16th!