Circus Tots Registration – on hiatus
Ages 2 – 3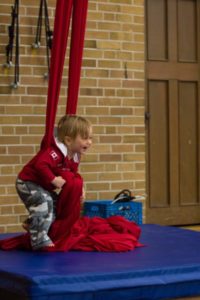 Jump, swing, twirl and tumble! Our tiniest troupe members explore aerial and ground circus acrobatics, encouraging fundamental movement skills and play. A parent/guardian and tot program.
On hiatus until early 2020
watch this space for updates or sign up for our newsletter at bottom of page to stay in the loop!
– Leaside Temporary Closure: our Fall term will be shorter in Leaside this year (East End is not effected). We will be temporarily closing in November for some exciting renovations to our space, including a new gym floor! Re-opening early 2020. Interested in ground acrobatics, flexibility, or circus conditioning classes in Leaside during the closure? Email us and let us know!