UPDATE Oct 2nd:
As you are all aware, COVID daily case counts are now on a strong upward trajectory in Toronto. We're watching the situation closely and have suspended new registrations for Fall Term (as well as any new Party bookings) as we assess the current restrictions and recommendations from both Provincial and Municipal heath departments.
Please watch this space for updates. Thank you!
---
September 12, 2020
Hello, everyone!
Just a quick update to let you all know that Fall 2020 Registration is now open for weekly classes starting the first full week of October.
Please note: all students or parents/guardians of students MUST read our new COVID Policies and Procedures page before registering.
Our Parties have also been revised and we are once again able to start booking those! Click here for more information and to get in touch re: availability.
We can't wait to see you all soon!
-- Jen and the team at Toronto Circus Centre
Circus Tots Registration – on Hiatus due to COVID
Ages 2 – 3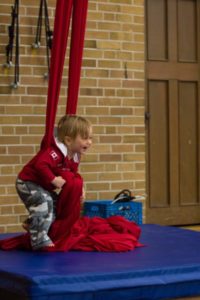 Jump, swing, twirl and tumble! Our tiniest troupe members explore aerial and ground circus acrobatics, encouraging fundamental movement skills and play. A parent/guardian and tot program.
Fall Term 2020 — ON HIATUS DUE TO COVID