UPDATE Jan14 2021:
As you are all aware, COVID daily case counts are now on a strong upward trajectory in Toronto and sports and theatre activities are prohibited. We're watching the situation closely and have suspended all registrations and programming (as well as any new Party bookings). We are constantly assessing the current restrictions and recommendations from both Provincial and Municipal health departments and look forward to opening as soon as possible.
In the meantime, check out our Online Class offerings.
Please watch this space for updates. Thank you!
-- Jen and the team at Toronto Circus Centre
Circus Tots Registration – on Hiatus due to COVID
Ages 2 – 3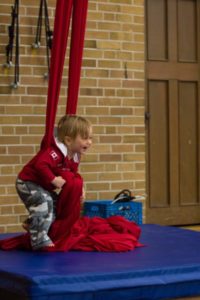 Jump, swing, twirl and tumble! Our tiniest troupe members explore aerial and ground circus acrobatics, encouraging fundamental movement skills and play. A parent/guardian and tot program.
Fall Term 2020 — ON HIATUS DUE TO COVID