July 3, 2020 - Watch this space soon for Online Summer Class announcements!
June 17, 2020
We know many of you have been waiting anxiously for word from us after hearing that day camps could run. We apologize for the delay as we have been extensively researching guidelines to see if we can operate within the given parameters and unfortunately we have not been able to work it out either logistically or financially. This was a difficult decision to make, but as always we continue to prioritize the safety of our students and staff. Information is vague, but we recently learned from Ontraio.ca that gyms, indoor sports facilities, fitness facilities and studios cannot open until the city they are in is in phase 3. Even with adapted programming, it is our understanding that we fall under this umbrella.
We have been actively collaborating with other circus organizations across Canada, to figure out how to safely offer circus programming, pandemic in mind. If the situation in Toronto sufficiently improves we would love to offer camp later in the summer, if possible. Some other summer camps may be able to run, unfortunately ours isn't one of them at this time, even with the adapted programming we've created. Instead of keeping you on hold in hopes that we can operate, we prefer to free you up to join a camp that can more likely run (outdoors for example). If we are able to open camp later in the summer, we will contact present registrations first and you will have 48 hours to confirm if you want the spot you previously held.
Please watch for information about online classes that we will be offering. Coaches are missing seeing the kids too!
Take good care, enjoy the sunshine and we really hope to see you soon.
-- Jen and the team at Toronto Circus Centre
Circus Tots Registration – ON HIATUS
Ages 2 – 3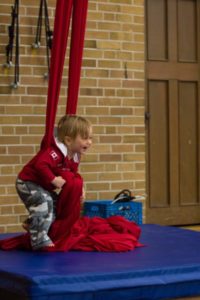 Jump, swing, twirl and tumble! Our tiniest troupe members explore aerial and ground circus acrobatics, encouraging fundamental movement skills and play. A parent/guardian and tot program.
Class on hiatus until TCC re-opens