NOTE: Keeping our children and community safe is a priority of Toronto Circus Centre and in light of the recent announcements from the Ontario Chief Medical Officer of Health, we are suspending all Spring Term Classes for the time being. The Ontario Minister of Education has issued a Ministerial Order to close all publicly-funded schools and many programs/facilities in Ontario. We must follow the lead of the experts in response to the emergence in Ontario of COVID-19, and in an effort to slow its spread. The decision was made on the advice of Dr. David Williams, Ontario's chief medical officer of health.
Truly social distancing is what we are told works best and it takes ALL of us engaging in social distancing for it to work! Together, we can flatten the curve in Canada.
It's heartbreaking for us all to have to close for now, especially during these stressful times when a little circus fun would be so welcome. With the information we have, I cannot be a part of the problem when there is a clearly outlined opportunity to be part of the solution.
Look for further instructions on when we can proceed with Spring Term Classes as soon as we have more information. For now, feel free to sign up to hold your spots, just disregard the amount due for the time being. We will confirm with you, once we know how long Spring Term will be, what that amount is. For the time being, a submitted registration form alone is sufficient to hold your spot.
We appreciate your co-operation and understanding and look forward to seeing you soon in healthier times.
-- Jen and the team at Toronto Circus Centre
Circus Tots Registration
Ages 2 – 3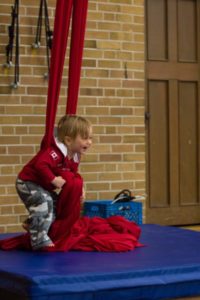 Jump, swing, twirl and tumble! Our tiniest troupe members explore aerial and ground circus acrobatics, encouraging fundamental movement skills and play. A parent/guardian and tot program.
Spring Term 2020:
– Saturdays (12 weeks), Leaside location (822 Millwood Road @ Leaside United Church), Mar 28th – Jun 27th, 9 – 10 am, $240 + HST
– Drop-in also available, $25 tax included
– Scheduling note: NO CLASSES on Saturday, May 9th and Saturday, May 16th!