July 10, 2020
As many of you know, Summer Camps have been cancelled for 2020 due to COVID-19. This was a difficult decision to make, but as always we continue to prioritize the safety of our students and staff. Our focus is being put on planning for the Fall Term in September. We will post details here as soon as we have them! We must wait for TDSB to finalize their plans and then it will take a little time to adapt our schedule and curriculum accordingly. We appreciate your patience -- for the quickest news on Fall term plans, please sign up for our email list at the bottom of this page.
In the interim, please check out our NEW online classes. Enjoy the sunshine and we really hope to see you soon.
-- Jen and the team at Toronto Circus Centre
Circus Club Registration – ON HIATUS

Ages 6 – 11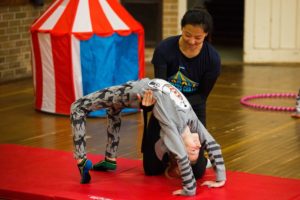 Experience life under the big top! There is something for every junior circus star in training in this program. Juggling, floor and partner acrobatics, aerial trapeze, hoop, rope and silks. Increase strength, flexibility, co-ordination, confidence and creativity. Enhance performance in any sport. Students invite parents to a circus show at the end of the year – an attraction not to be missed!
After-School Pickup (East End only) – ON HIATUS UNTIL SCHOOL RE-OPENS
After-school pickup is available at the following schools:
– Blake (Thursday only)
– Bowmore (Monday only)
– Duke of Connaught (Tuesday/Thursday only)
– Equinox (Monday, Tuesday, or Thursday)
– Roden (Monday, Tuesday, or Thursday)
Children are met at the school and safely walked to the circus. Please send a snack. After-school pickup program cost is $5.00/day + HST. Children must be enrolled in one of the following East End location 4pm classes eligible for pre-class pickup:
– Kinder Cirque (ages 4-5) on Monday
– Circus Club (ages 6-11) on Monday, Tuesday, or Thursday
After-School Pickup can be added as an option on the registration form below. The option to add Pickup will appear after an eligible Class Selection is made.
Toronto Circus Centre is not a licensed daycare provider
Class on hiatus until TCC re-opens